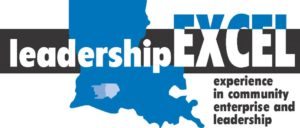 Leadership EXCEL, a joint program between the Crowley and Jeff Davis Chambers of Commerce, is pleased to announce the members of the 2018 Class. The selected participants represent a cross section of the community's business, civic, and non-profit sectors.
Leadership EXCEL was established to prepare a diverse group of professionals for leadership positions in the community. The program lays the groundwork for a well-rounded understanding of the community, sparks community involvement, and exposes participants to a variety of community leaders, new opportunities, and leadership skills.
The program focuses on topic areas such as education, city and state government, economic development, the arts and culture, and social services. Graduates leave the program with first-hand knowledge of the issues facing our region and the potential for a positive civic-engagement.
The eleven-month program begins with a two-day retreat in January. From March-November, the class devotes an entire day each month for discussion with community and business leaders, trips throughout the community, and engaging exercises pertinent to the program topics.
2018 Class
Claire Benoit, Rayne Building & Loan Assoc.
Peter Boulet, Fontenot Insurance
Angie Bourgeois, Central Rayne Kindergarten
Rachel Broussard, Acadia St. Landry Hospital
Kayla Duhon, Dugas, Soileau & Breaux, L.L.C.
Jay Domingue, REACH4 Communications
Jenny Foreman, Bank of Commerce & Trust Co.
Ian Gall, Acadiana Metal Master LLC
Eric Gautreaux, Jeff Davis Electric Coop
Ali Klentzman, Acadia General Hospital
Chris Kratzer, Acadia General Hospital
Jeremy Leleux, First National Bank of LA
Megan Malmay, Crowley Chamber of Commerce
Fallon Matte, Town of Church Point
Tears Mickens, JD Bank
Brian Oustalet, Bubba Oustalet Automotive Group
Chance Oustalet, Bubba Oustalet Chevrolet Cadillac
Jimmy Prevost, C. J. Prevost Insurance Agency Inc.
Tiffany Richey, Educational Professional
Dale Robertson-Agosto, Griffith Lumber Co., Inc
Jazlyn Thibodeaux, Church Point High School